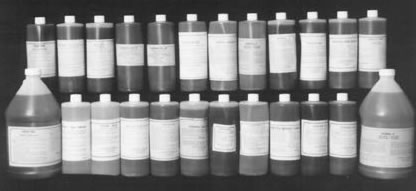 Knobloch
Products
Liqua Tan ...qt. $20.95 ...gal. $59.95
Liqua Tan is a complete and permanent tan. fast drying.
Compatible with all hide pastes. Excellent stretch. Sets hair.
No oily mess. Reduces shrinkage to almost zero.
Used by many of the leading taxidermists. Easy to use.
Can be mounted the same day or dried and handled as a tanned skin.
Step 1 - After skinning the head, turn the ears and do a preliminary fleshing job.
Step 2 - Apply salt liberally to all areas of the skin, and let set overnight.
Step 3 - Soak in Pre-Tan solution 12 to 24 hours.
Step 4 - Remove cape from Pre-Tan and finish your fleshing.
Step 5 - Soak cape in Washing Oil solution 10 to 20 minutes as directed.
Step 6 - Hang to drain and towel cape dry or tumble.
Step 7 - Apply the Liqua Tan. Invert cape, hair side out and roll up. Let hide set for 6 to 8 hours.
Step 8 - Now cape may be mounted or frozen for later.

Liqua Cure ...qt. $23.71
For fish and birds. Preserves (tans), degreases, cleans, and removes odors. Also reduces shrinkage. This is a concentrate that is mixed one part Liqua Cure to ten parts water. This product can be reused.

Reptile Tan ...qt. $22.25
Tans snakes and other reptiles, leaving them soft and pliable. Easy to use.

Pre Tan #110 ...qt. $19.25
Pre tan #110 is used in the salt brine solution to help set hair, to retard bacteria growth, and pre-tan the skin. Helps make shaving easier, produces better and softer leather. Does not require neutralizing. Will not reduce stretch.

Liqua Soft ...qt. $19.25
A special tanning oil designed to be used with Liqua Tan when skins are to be used as flat skins or rugs. Helps produce a soft, supple skin. Has special softening agents.

Tanning Oil #1 ...qt. $16.75
A bisulfited concentrate, non-oxidizing tanning oil for medium to heavy skins. Highly softening. This product is recommended when tanning with Alum or Lutan F.

Tanning Oil #2 ...qt. $25.00
A bisulfited, non-oxidizing tanning oil for light to medium skins. Not a watered down oil. Highly softening.
Is recommended when tanning with Alum of Lutan F.

Washing Oil ...qt. $16.95
Pickle Oil preps the skin for tanning, degreases and oils at the same time, relaxes, cleans, washed out salt residue, and helps to make softer leather. Can also be used in the fur drum.
This product also makes shaving the skin easier.

Kemal-4 ...qt. $17.15 ...gal. $46.00
Kemal-4 is a relaxer, skin-prep, detergent type degreaser and cleaner all in one. Concentrated and safe to use. can be used in all soak
solutions. Prepares the skin to accept tanning. Relaxes the skin for easier shaving. Softens skin such as African and grease burned
skins. Will not cause hair slip page like ordinary soaps because of its low pH. Is about ten times stronger than most dish detergents.

Kemsol Degreaser ...qt. $14.75
Kemsol Degreaser acts as a solvent. Mixes with up to 20 parts water. No odor and safe to use. Can be used over again. Works excel
lent on mammals, birds, and fish. Can be used in conjunction with Kemal-4. Compatible with tanning agents.

Deodorizer Wash ...qt. $29.95
A concentrated wash that removes and masks unpleasant odors in skins such as bear, antelope, domestic sheep, fox, coyotes,
goats, etc.

Finishing Deodorizer ...qt. $24.50
Finishing Deodorizer is used for deodorizing tanned skins or finished mounts and rugs. A concentrate that is used full strength.

Stop Slip ...qt. $13.95
Will permanently set hair that is loose or starting to slip. Also works excellent for setting the velvet on horns. Spray from an atomizer
or sponge on.

Bird Feet Injection Fluid ...qt. $22.95
A preservative for injecting into bird feet, wings, feet of small game, and antlers in velvet to reduce shrinkage. Safe to use without
offensive odors.

Hair Sheen ...qt. $16.50
Gives hair and fur a clean shine. Can be applied directly to the hair or mixed with sawdust in the fur drum. Will also remove grease
and grime from hair, giving it a clean smell. Works well on horns.

Antler Stain #1 ...qt. $19.90
A stain that builds up gradually. Will give a natural reddish-brown color and will not fade. Alcohol base, can be thinned with water.

Antler Stain #2 ...qt. $19.90
Same as above but chocolate brown in color.

Relax R ...qt. $19.90
An oil base skin relaxer that can be used in the rehydrating solution, or can be cut with water and applied directly to the skin.

Protex Mount Care ...qt. $27.50
For protection of hair, fur, and feathers from moth and other insect damage. Safe and easy to use. Won't wash out. This product is
used for new mounts or existing mounts. Protex Mount Care is wiped into the hair or added to the sawdust in the fur drum. This
product is not water soluble.

Protex Pre Soak ...qt. $43.25
For protection of hair, fur, and feathers from moth and other insect damage. Also cleans and conditions hair. This product is used in
the last rinse of the tanning process and in the rehydration bath prior to mounting. Concentrated. Use 1 oz. per gallon of water.

Skin Prep-NBU ...qt. $22.95
A highly concentrated bactericide. Is safe to use, biodegradable, odorless and colorless. Highly recommended for bacteria problems
which are the main reasons for hair slippage. Use only 1/8 oz. per gallon of solution.